Download Jannah - Newspaper Magazine News BuddyPress AMP by TieLabs. This item is under the category: wordpress/blog-magazine/news-editorial and had a total of 14487 sales.
Description
Jannah has covered content marketing with new responsive designs, amazing new features, full one-click website demos, and free lifetime updates.
3 good reasons to choose Jannah
Over a year of development by experienced web design company TieLabs, the team behind the No 1 Selling News Sahifa theme
Real-world features such as native support for "select and share" GIFs and web-based push notifications.
Mobile navigation for today's modern devices PLUS the built-in powerful AJAX mega menus.
Online publishing redesigned for WordPress
Jannah takes a fresh look at the world of desktop publishing in the modern era of content marketing and turns it upside down with a stunning design, new layout options, modern sharing options, and integration of the most popular extensions. for WordPress for maximum flexibility.
Adapted to today's modern devices
Of course, Jannah has a fully responsive design that not only adapts to all of today's modern devices, but responds to the latest mobile devices for slick content.
It also seems to be thinking for you with smart menu features that adapt to the user's device to ensure they get the best possible experience while consuming your content.
CHA
Fully compatible with the Accelerated Mobile Pages (AMP) project, so your content is optimized for mobile and loads FAST, anywhere.
SEO optimized
Jannah also has the SEO products, with an article and review schema to support snippet views for longer articles.
Optimized with full support for the super popular Yoast SEO and Rank Math plugins so you can get more visitors from Google and BING Search, as well as HTML SEO support so search engines can grab the signals from ranking from specific HTML elements, as well as SEO Rich Snippet support for add-ons like reviews, ratings, and photos.
High performance, blazing speeds
Did anyone say "Need speed? "
Jannah has stepped up a notch with several advanced behind-the-scenes developments to bring you truly blazing page load speeds and overall website performance.
Lazy loading – Means images load when the user needs them.
Minified version for JS – works the same as jquery.js but is smaller for your production website.
Minified CSS resources – removes spacing, indentation, newlines and comments.
Built-in cache to reduce database queries.
Compatible with the popular WP Super Cache cache plugin.
BbPress integration
The industry best practice forum software for WordPress from the makers of WordPress. This means that you can rest assured that you can easily set up discussion boards on your WP site.
It's easy to moderate, fast and clean and is managed from a single central account and has a one-click installation.
Pre-dressed demos
Go in the dark or keep it light and fluffy – Jannah gives you easy to update skins with clear, dark skins and everything in between.
Nearly 1,000 policy options
With over 800 Google Fonts and +150 FontFace.me fonts included in Jannah, you'll be sure to find the right one for you.
Nothing to update or install, everything is included under the hood.
GIF support
Who doesn't love a good GIF meme?
Fundamental to the success of large viral sites today, GIFs play a huge role in mainstream content and you need to be able to support it natively, no messing around, no extensions or plugins needed.
Jannah natively supports GIF images for a great user experience.
Customizable layouts
Go crazy with a custom layout!
Flanged, full width, boxed, masonry or straight to a column. Layouts are the basis of how your site looks, and having a flexible system for moving it around and seeing how it fits with your content is crucial.
Skip to content
Adding hotspots to your content so that users can jump to a specific point in long content is a great way to make navigation easier.
Ajax Mega Menus
A really hot menu is key with a large site filled with tons of top notch content. A good menu should make users stick around, look at other pages, and feel like they know where they are at all times.
With our Ajax-powered mega-menus, leave no stone unturned with a dynamic range of exciting menu options that are sure to exceed your expectations.
Mobile navigation
Stand out with beautifully styled and customizable mobile navigation for your new site. Available off-canvas, you can change the backgrounds to be solid colors, gradients, or images. Set the color and turn on / off social icons and search form.
Select and share
This is a really cool feature that we know you are going to love. With Jannah and 'Select and Share', the end user controls the sharing function.
They just need to highlight …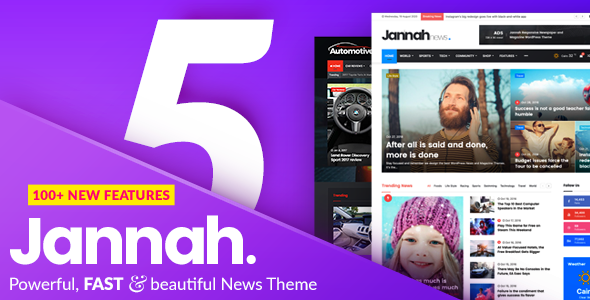 LIVE PREVIEW
DOWNLOAD NOW