Download Jobify - Job Board WordPress Theme by Astoundify. This item is under the category: wordpress/corporate/directory-listings and had a total of 13639 sales.
Description
Finding a job just got easier
Creating a job board has never been easier with Jobify – the easiest to use job board theme available. Create a community of employers and potential employees.
Simple live search and filtering makes it easier than ever to find relevant jobs.
A fully customizable homepage means you are in control of your website layout.
Charge fees for job postings, and easily monitor and approve submissions.
Create your job site in minutes
Famous for installing in five minutes, WordPress is perhaps the most time-consuming part – installing plugins and Jobify is quick and easy. You will connect companies with people who are actively looking to fill positions immediately.
Resume assistance allows the search engine to do the job
Today's job search isn't about people reading and reviewing resumes manually. They let search engines analyze and find key phrases in resumes. Jobify supports candidate resumes, so employers, recruiters, and prospects can find them faster. (Plugin sold separately).
Powerful features in the palm of your hand
Like everyone else, your users take their phones with them wherever they go. Now they can browse job openings in the palm of their hand. Jobify is mobile-friendly with a responsive functionality that allows users to search for jobs, submit a list, and more.
Start now
Connect people using Jobify nothing's easier :
A company submits a job offer with details about the position and its company.
A potential employee visits the site, searches for the interactive map, filters the results and applies for the job of their dreams.
Site administrators may require a subscription or one-time payment to create a job posting.
Jobify features
Integrates with Mike Jolley's free WP Job Manager plugin — The first fully integrated theme of its kind!
Integrates with the Resume Manager plugin which allows candidates to upload / post CVs to your site, or post them manually. (Plugin sold separately).
Integrates with List Payments which allows you to create custom job packages that can be purchased or redeemed upon job submission. Note: This can only be used to sell job postings and cannot be set up as a full store. (Plugin sold separately)
Integrates with the popular WordPress Slider Revolution Responsive plugin. (Plugin sold separately).
Integrates with the free Testimonials by the WooThemes plugin to display individual testimonials, as well as brands of companies using your service
Integrates with the popular free NinjaForms plugin allowing users to submit resumes from a convenient contextual modal.
Integrates with the popular GravityForms plugin so users can submit resumes from a convenient contextual modal. (Plugin sold separately) Optional.
Beautiful and clean, responsive design (optimized for iPad and iPhone)
Big and awesome typography
Designed for Retina displays
WordPress theme customization support
Complete customization of the design, i.e. logo, background, text colors
Page models (Home, Testimonials, Pricing)
Support for the contact form (JetPack forms, contact form 7, severity forms)
Custom shortcodes (registration, login, tasks, task dashboard, task summary, etc.)
Ready for WordPress 4.6+ (featured menus and images)
XML dummy content included for easy setup
Full localization support (contains .po / .mo files)
Complete documentation
Change log and update history
To ensure that there is no downtime or incompatibility with your website, you should always install theme updates on an intermediate server first. This will allow you to make the necessary adjustments and then migrate them to a production site.
= 4.0.0: September 30, 2021 =
Add: New skin added "Skin 2"
= 3.20.0: July 20, 2021 =
Add: Related CV support for Jobify Extended.
Fix: Required form validation issues.
Fix: Design issues with Elementor – Post your work (Elementify)
= 3.19.2: June 8, 2021 =
Fixed: Latest version of Gravity Forms conflicting with the theme.
Fix: Remove Google plus in social media profiles from the Jobify theme.
Fix: Company Listing plugin causing UI issue on Jobify skins.
= 3.19.1: March 30, 2021 =
Fixed: mobile search filter issue.
= 3.19.0: March 25, 2021 =
Added: Jobify new skin-1 with Elementify compatibility.
Bug fix: Demo import stops during import process.
Correction: PHP warning for widgets compatibility.
Correction: WP 5.7 compatibility.
= 3.18.0: February 01, 2021 =
Correction: WP 5.6 and PHP 8 compatibility.
Fixed: Select2 jQuery plugin problem.
Bug fix: HTML issue with job listing data attributes.
= 3.16.0: October 14, 2020 =
Add: title of the page on the widgetized page template.
Update: task dashboard style, make it mobile responsive.
Update: display of job alerts to be responsive.
Fixed: PHP warning for deprecated testimonial plugins feature.
Correction: PHP warnings on the search category when the request is not transmitted in the form of an array.
Fixed: Demo import stops during import process.
= 3.15.0: July 15, 2020 =
New: Compatibility with Elementify.
= 3.14.0: April …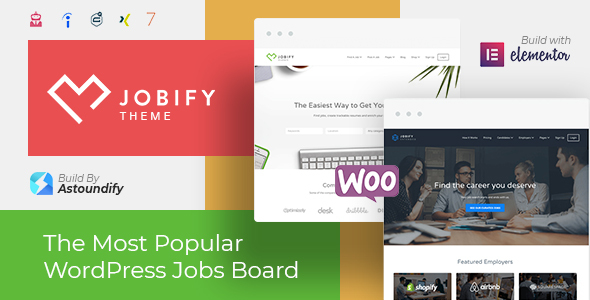 LIVE PREVIEW
DOWNLOAD NOW