Download WP Rentals - Booking Accommodation WordPress Theme by WpEstate. This item is under the category: wordpress/real-estate and had a total of 9021 sales.
Description
WP Rentals is a unique WordPress booking theme which saves you time and money when creating your rental platform. Either you use the theme as a sole owner or you allow users to save and post ads (properties or objects) for daily or hourly rent, Rentals has you covered.
With over 150 theme options and 20 price options, this theme offers everything you need to build a successful rental business and make money from it. Easily sync your availability calendar with other platforms like Airbnb, HomeAway, etc.
Our theme is up to date with SCA regulations for Stripe Europe payments. We also allow customers to enable WooCommerce and their merchants to process payments for reservations through WooCommerce. Instant Booking Deposits paid through WooCommerce DO NOT require user login.
WpRentals can be translated into any language and can be used as a multilingual website with third party plugins like Weglot or WPML.
Translations included:
Spanish, German, French, Italian, Portuguese, Dutch, Greek, Turkish, Romanian.Please note that translations may require changes.
Latest version 3.4 – September 2021
New Demo for Sole Proprietorship Rental Website – https://solo.wprentals.org/

New Demo for Vacation Rentals Website – https://cancun.wprentals.org/

Option to show guests as adult – child – baby

Check and print trip details after confirming a reservation

Set a value for additional authorized guests, if the option is enabled

Show password in login and registration forms

View the full changelog
In WpRentals, you can choose different price settings for an ad and you can control which fields are available to display in the ad submission form:
A default price per night (or per hour),
A different price per night for reservations of more than 7 days (or personalized price per hour for reservations of more than 7 hours),
A different price per night for reservations of more than 30 days (or a different price per hour for more than 30 hours),
You can set a different value for 7 and 30, if you want to offer a reduced price for less or more than 7 and 30 nights r hours
A different price per night (or hour) for weekend days,
Minimum booking days (or hours),
Price for additional guests,
Cleaning and / or city costs (with the possibility of calculating them per night, per client or per client and night),
Security deposit,
Tax value,
Early% discount for reservations made in advance, and more.
The theme supports personalized price per night for a specific period comprising:
Personalized price per night for bookings 7 days + or 30 days +. Replace 7 and 30 with your values.
Tailor-made prices for weekend nights
A minimum number of nights to book for a specific period
Custom pricing for additional guests
Custom turnover days for a specific period
For booking options, the owner can enable (or disable) the option to calculate the booking fee based on the number of guests and the price per guest
There is also the possibility to define days of change (days of change of arrival OR arrival and departure)
All of this can be easily tested using the demo account below.
WP Rentals also supports hourly booking OR daily booking. Check out this demo for hourly booking – https://skirent.wprentals.org/ and this new demo for mixed booking: hourly or daily – https://office.wprentals.org
Demo user access information
Username = user
Password = 1234
For each advertisement, the owner can add his additional reservation elements and set a price for each one per night, per guest, in package or per night and guest. This is handled from the Front End Submission Form – Price Details.
You can sync your calendar availability / bookings via Icalendar feed from another platform that supports iCal and export your list iCal feed to other websites compatible with this system. You can choose to import as many Ical feeds as you want.
Admin receives payments through Paypal, Stripe, or Bank Transfer (offline payments) for posting new listings and / or service charges for each confirmed booking. WHERE activate and use WOO COMMERCE merchants to process payments to admin at over 150 merchants.
There is also support for instant payment with WooCommerce. Demo: https://demo1.wprentals.org/properties/condo-in-liberty-state-park/.
Each confirmed reservation will block the availability calendar and will not allow further reservations for the same period.
Main Features
Easy to start

Do you like the available demos? Import any demo with just a few clicks and start editing it right away.
Fully responsive and retina ready

The theme is ready for all phones and tablets. Provide a smooth user experience on all platforms.
SMS notifications by Twilio

WP Rentals includes SMS notifications through the Twilio API platform. Integrate your Twilio phone number, set SMS text and you are ready to send SMS to verified phone numbers.
Process reservation payments with any WooCommerce merchant
We allow the option to use WooCommerce for payments to be enabled instead of thematic merchants. WooCommerce supports over 150 merchants worldwide and can be used in any …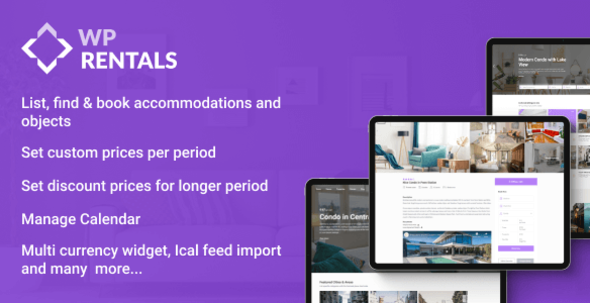 LIVE PREVIEW
DOWNLOAD NOW