Download Hotel Master Booking WordPress by GoodLayers. This item is under the category: wordpress/retail/travel and had a total of 6809 sales.
Description
Hotel Master – WordPress theme for booking hotels, hostels and apartments is the best WordPress theme for booking hotel rooms, hostels, resorts, apartments and bed and breakfasts. It comes with the best room reservation system. The system allows users to easily browse through the available rooms. In the middle of the booking process, the user can also change the setting or re-choose the room smoothly with the ajax function so no page refresh! We also create a COUPON post type so that you can create a coupon code for your customers. In the coupon configuration, you will be able to define the coupon code, the coupon amount, the coupon expiration date, the type of reduction in percentage or in specific credit amount. This theme is also well designed for hotel, apartment, bed and breakfast (bnb) and resort websites. It comes with 5 different demos: Classic, MyApartment, Modern, Dark and Hostel.
V3.0 – In this version we have taken Hotel Master to the next level, which sets it apart from other hotel WordPress themes in the market. We have put many new features in Hotel Master such as
– iCal – Possibility to synchronize the reservation with other services such as Air BnB, VRBO, HomeAway. (Please note that this method is only available when you have only one room in the "Room Amount" parameter. If you have more than one room, this function is not available. For example, if you have 3 room types and each type has only one room, that's fine but if each type has more than one room, iCal is not available)
– Possibility to define mandatory for an additional service (eg for cleaning service).
– Possibility to block each room on a specific date.
– Special discount for booking consecutive nights.
– Redesign of the transaction page in the backend.
– Add new design in booking bar / room details and much more.
– New demo for booking apartments and guest rooms.
Reservation System Walkthrough : https://www.youtube.com/watch?v=wpCM0tYG1MI
Walkthrough for services, facilities and seasonal prices – https://www.youtube.com/watch?v=ta4VWvmwCU8
To test PayPal payment on the demo site, you must first create an account on Sandbox: https://www.sandbox.paypal.com
In V2.00, we are putting in a big update. Now this theme also fully supports hostel features. You can create a dorm (or private room) and allow the guest to book by bed instead of by room. It also comes with better facilities management in the backend which allows you to easily add / remove facilities. In addition, you can have unlimited seasonal prices this time. And even more! you can now add your additional services and invoice your customers.
Main Features
– Room reservation system
– Reservations management (backend)
– Room search system
– Unlimited seasonal prices supported
– Room reservation system
– Hostel fully supported
– Coupon Code for Room Discount – In coupon setup, you will be able to set coupon code, coupon amount, coupon expiration date, percentage discount type or specific credit amount.
– iCal – Possibility to synchronize the reservation with other services such as Air BnB, VRBO, HomeAway. (Please note that this method is only available when you have only one room in the "Number of room" parameter. If you have more than one room, this feature is not available. For example , if you have 3 room types and each type only has one room, that's fine, but if each type has more than one room, iCal is not available)
– Possibility to define mandatory for the additional service (eg for the cleaning service)
– Possibility to block each room on a specific date
– Special discount for booking consecutive nights
– Special discount for booking consecutive nights
– Page generator
– Free main slider valued at $ 19
– Full Screen Cursor, Full Width Cursor, Boxed Cursor
– Social link in the header
– GoodLayers importer – In just a few steps, you can turn your site into a demo site. We have a step by step video to teach you.
– Page builder settings shortcut button – With just one click, you can have page creation settings like Home page, About, Service, Contact 1, Contact 2.
– Parallax / color section – You can have parallax background in any section you want. You can also set the parallax speed or have it corrected as well.
– Landing page template – options to disable header, footer or both.
– Unlimited color – You can turn your site into anything you need with color options. You can change almost any color element.
– Awesome shortcodes – We have integrated many useful shortcodes which will surely make your website stronger.
– Customizable skin for each parallax / color section – When using parallax section, you may need to change font color or link color. You are allowed to create a custom skin through the admin panel and easily assign it to the parallax section.
– Customizable sidebar size – You can easily set the width of the sidebar through the admin panel. We have 5 options for you. 16%, 25%, 33%, 41%, 50%. And 25%, 33% for both sidebar layouts.
– Scalable container – You can set any width in pixels on your site.
– Floating navigation
– Boxed / full width layout
– WooCommerce Supported – Please note that this does not mean that the user can pay for rooms using Woocommerce. The reservation system and Woocommerce are …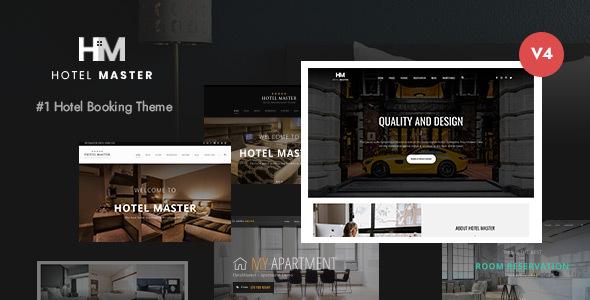 LIVE PREVIEW
DOWNLOAD NOW