Download JobCareer | Job Board Responsive WordPress Theme by Chimpstudio. This item is under the category: wordpress/corporate/directory-listings and had a total of 8004 sales.
Description
Need assistance or a presale – A question?
Contact us via: WhatApp No: +447444900194
Chimp Studio WordPress Job Board Theme is a full featured WordPress Job Board theme that allows you to build a useful and easy to use job board website and also offers a free mobile app. Using the JobCareer theme, you can create a comprehensive and fully responsive job portal, a career platform to manage a human resource management, recruiting or job posting website. JobCareer is not just a job site theme, it is the best WordPress job portal theme choice for anyone who wants a simple working script that makes money.
Looking for a trusted personalization partner?
We understand that not every theme meets every buyer's needs 100%, so modification becomes necessary. We know our theme better than anyone, we can modify it to exactly match your needs. We have the advantage of developing the theme, so we are the most economical in the personalization market. You can request a quote for your project here: Personalization portal
Change Log: Version 3.9 (June 14, 2021)
New Added: Compatibility upto WordPress version (Classic Editor) : 5.7.2

Updated: woo commerce archive templates updated

Fixed: Free job posting – employer login dashboard complete address not updating after posting
Fixed: Geolocation not working
Fixed: Keyword Search gives error when keyword search is not found
Fixed: Icons not appearing in CS: iconbox element
Fixed: Page builder javascript issues
Fixed: CS Theme options and tabs not saving
Fixed: Styling, jquery & Responsive Issues

Change Log: Version 3.8 (January 14, 2021)
Fixed: Page builder freeze issue
Fixed: Theme Options buttons freeze issue
Fixed: Icon issue on Apply job form
Fixed: Loco missing translation strings
Fixed: Styling & Js issues

Change Log: Version 3.7 (October 28, 2020)
Fixed: Colors are not saving from cs theme options
Fixed: Apply Job form validation not working 
Fixed: Indeed Import jobs - Employer is not assigned after importing to each job
Fixed: Collapse filter not working properly
Fixed: Transaction is not saving for Candidate apply job package
Fixed: Job Filtration with Specialism and posted by not working
Fixed: Blog page appear broken (When sidebar left or right assigned)
Fixed: Styling, jquery & Responsive Issues

Change Log: Version 3.6 (September 4, 2020)
New Added: Compatibility upto WordPress version (Classic Editor) : 5.5
Updated: woo commerce archive templates updated

Fixed: Theme options not saving
Fixed: Apply job Cv upload Validation is not working properly
Fixed: Apply job Applicant name not appearing in applicants section
Fixed: Candidate Name not appearing with cover letter heading in applicants section
Fixed: Paypal Checkout flow and status issues on latest wp
Fixed: woocommerce Paypal Checkout flow and status issues on latest wp
Fixed: Custom fields post multi select highlight is not working in filter 
Fixed: Styling, jquery & Responsive Issues

Change Log: Version 3.5 (July 28, 2020)
Fixed: Stored Multiple XSS issue

Change Log: Version 3.4 (May 11, 2020)
New Added: Application Tracking system (Status Options for Employers & Candidate's 
i-e: (In Progress, Shortlisted,  Contacted, Rejected, Interview Scheduled, Selected, Hired)

New Added: New Frontend Editor with formatting support
New Added: Post a new Job > Multi job types and Multi specialisms selection option
New Added: Compatibility upto WordPress version (Classic Editor) : 5.4

Updated: woocommerce archive templates updated

Fixed: Apply job Validation to upload cv not working
Fixed: Apply job Applicant name not appearing in applicants section
Fixed: Job Alerts cron stop working after sending 2 job alert emails
Fixed: Bank transfer transaction status issue
Fixed: Import Indeed Jobs API update with new countries support
Fixed: Styling & Responsive Issues

Change Log: Version 3.3 (February 7, 2020)
New Added: Google Structured Data & Google Job Posting Integration Addon

Fixed: Job Alerts cron stop working after sending 2 job alert emails
Fixed: Validation Update notices stay issues
Fixed: Newsletter Text not appearing in Maintenance mode page
Fixed: Fatal errors on jobhunt activation on latest wp
Fixed: Candidate Filtration issues
Fixed: Styling & Responsive Issues

Change Log: Version 3.2 (January 30, 2020)
Improvement: Application deadline date validation while posting job from frontend
Improvement: Expiry date and Application deadline dates validation

Fixed: Radial job Search and geo location issues
Fixed: Candidate Portfolio images are not getting saved
Fixed: Candidate location search issues
Fixed: Bank transfer transaction ID and Package is not getting saved in back-end for job
Fixed: Job Alert emails are not working
Fixed: job detail and post detail share buttons not working
Fixed: mail to not working in top bar
Fixed: Styling & Responsive Issues

Change Log: Version 3.1 (December 28 …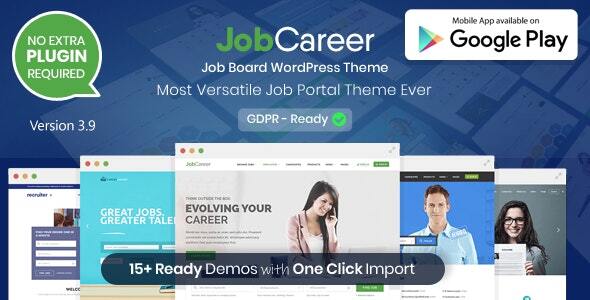 LIVE PREVIEW
DOWNLOAD NOW