Download Striking - MultiFlex & Ecommerce Responsive WP Theme by kaptinlin. This item is under the category: wordpress/corporate/business and had a total of 19940 sales.
Description
JULY 1, 2021 – NEW MULTIFLEX STRICT UPDATE – VER 2.1.7!
We are pleased to release our 48th full update to Striking MultiFlex with full compatibility for WordPress 5.8.0 , WOOCOMMERCE 5.5.2+; Compatible with PHP 8 & 7.4 and integrates the latest REV SLIDER V6 into the theme!
100% COMPATIBLE WITH THE LATEST PHP 8 STABLE!
WPML Approved Theme and we have additional wpml related features!
Thank you to all our loyal users. Be advised that Striking MultiFlex 2.1.7 is coming soon for download from your ThemeForest account, and an update notification will now appear in your WordPress dashboard provided you have toggled the theme setting (panel advanced settings) which enables notifications for theme updates and your Envato Article support for our theme is in good standing.
Your Envato license media must be up to date in order to use the built-in theme update feature. Like any other premium item, if the license support is not up to date, the easy update feature is not working and you need to download the full theme package and install the update by ftp .
We suggest you visit our support forum for detailed version information or view the changelog in the Envato download package. We are fully compatible with the latest version of Woo Ver 5.5.2+, including our custom woo templates. The changelog in the version 2.1.7 announcement feed contains detailed information about all changes.
WooCommerce plugin – For the benefit of proof of compatibility, we have added a Woo based store to our demo site – MultiFlex 2.1.7 and WooCommerce 5.5.2. Striking MultiFlex has many custom woo related settings in its basic theme options which are visible on the demo site. Striking MultiFlex includes a full set of woo demo content installable via our one-touch native demo content installer,
WPML – we are an approved WPML compatible theme. Thousands of multilingual sites have been created with Striking MultiFlex and we are also 100% RTL compatible with a full css built into our theme to allow every function of the theme to work in RTL languages.
Striking MultiFlex includes an easy 'One Touch' demo content installation feature with the 3 different sets of demo content available, including content from the Woo store for installation, as well as a custom Revolution Slider demo package complete!
FAMOUS THEMATIC SUPPORT!
A familiar comment in many testimonials is the great support for Striking. The Striking team has been one of the Themeforest pioneers in creating a separate dedicated support forum for usage questions and bringing Striking users together to exchange ideas for customization. Our support ethic is so good that it has been written in third party blogging sites that discuss WP themes as a model on how to conduct support properly (Striking itself has received a lot of positive independent reviews since its introduction in 2010).
Questions are answered daily on the Striking Forum by members of our support team. The support forum also has thousands of custom code snippets posted with solutions for almost any customization situation you are likely to encounter. It is the perfect place for beginners who want to get acquainted with customization and experts to find unusual solutions for the setting they want.
Please register on the Support Forum using your Themeforest name. PLEASE NOTE THAT WE DO NOT PROVIDE support here in the Striking Feedback thread – this is only for questions from potential buyers and all other questions will be redirected to the support forum found at this link:
EXCEPTIONAL MULTIFLEX FEATURES
Striking MulitFlex is an extremely powerful and flexible wordpress theme with a robust framework that can scale for large sites and web requirements. It features true WP Multisite capability, is a WPML approved theme, and offers customization for Woo Commerce plugin integration. Over 19,000 Themeforest buyers tell us it's the most feature-rich, customizable theme they've ever used. We invite you to view the demo, to see for yourself why this is the best solution for your web design needs.
Strike is a true all-purpose theme and can be used for types of sites ranging from photography and games, auto and real estate, blogging, portfolio, e-commerce, and colleges and universities for their applications. Web sites ! The theme is very flexible and endlessly customizable.
You won't find a more comprehensive admin interface – easy enough to grasp immediately for a beginner, but with every design element in Striking fully controllable, so if you're an experienced designer, you can manipulate the design of the way that's right for you – and Striking includes a child theme layout for WP design professionals. If you are a raw newbie, but see a code snippet on the support forum or elsewhere on the net that you want to test, the admin panels include custom CSS and Javascript (JS) fields where you can place a such code to manipulate theme styles without having to hard code theme files.
The theme is extremely compatible with plugins and …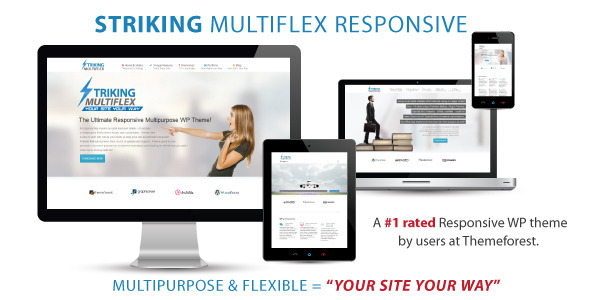 LIVE PREVIEW
DOWNLOAD NOW