Download Valenti - WordPress HD Review Magazine News Theme by codetipi. This item is under the category: wordpress/blog-magazine/news-editorial and had a total of 10370 sales.
Category: WordPress
Tags: clean, creative, fashion, magazine, magazine theme, modern, Music theme, news, news theme, newspaper, newspaper theme, rating, review, review theme, rtl
Description
Valenti v5.6 + is compatible with: WordPress 5.8, all the latest PHP (7.4 and 8.0), Gutenberg, WooCommerce 5.7+, etc.
Important: If you are upgrading from Valenti v5.5.4 or earlier, be sure to read the update section of the documentation for how to perform a smooth update to v5.6.
Valenti – WordPress HD Review Magazine Theme
Valenti is a premium HD (retina ready) cutting edge WordPress magazine theme that is feature rich and fully responsive. Using the exclusive Valenti Drag & Drop Builder, users can have fun creating a unique homepage and easily make changes to it at any time. With the powerful and integrated Valenti feedback system and widget, you can also make full use of Valenti as a review theme. Valenti also comes with a unique mega-menu system for beautiful drop-down menus and also the ability to set the featured image of a post to have parallax effect. And of course, Valenti comes with WooCommerce, bbPress, and BuddyPress integration for a full experience. Valenti is truly a premium WordPress magazine for 2021 and beyond. Blogs, foodies and even newspaper sites will love Valenti!
Valenti brings back the fun of building a website!
Some examples of sites using Valentini
Jonk Music – http://www.jonkmusic.com/
Rosanna Davison Nutrition – http://www.rosannadavisonnutrition.com/
Sounds better with Reverb – http://www.soundsbetterwithreverb.com/
We are travelers – https://www.wearetravellers.nl/
Drefvet – http://www.drefvet.se/
My Baba – https://mybaba.com
Snatcher (RTL) – http://www.snatcher.co.il
Luxefair – http://luxefair.com/
Animated Zine – http://spiritedzine.com/
Headfonics – https://headfonics.com/
More Valenti user reviews
I bought tons of themes here, and it is by far the simplest (but most sophisticated) I have ever seen. Was up and running in two minutes, great job! Cmtusa
Easiest theme I have ever used. Thank you! 2 minutes to set up. THANK YOU!!! soulsis97
I have to say that this theme is by far the easiest theme to work with, extreme fluidity, beautiful and full of options. I am also very impressed with the author's exceptional support. 5 stars! Greet! MaVixion
I bought and installed Valenti over a week ago and the results have been amazing! My page views, the time spent on the site and my income have increased considerably. The navigation allows readers to see older articles which keeps them on the site longer. The organization of categories is perfect if you have a lot of content. The coding is clean and the back end is easy to use. On top of all that, the support is great! I highly recommend Valenti and couldn't be more satisfied. CrystalMHL
I would like to say that I love this theme, I bought it a few days ago. The former is really easy to set up, even for people like me who don't speak English very well. The support was quick and really kind. This theme has a lot of possibilities, I continue to discover what it offers. And best of all my friends tell me it doesn't look like a blog anymore but a real website. This theme is amazing and well coded. Lorelei66
Home page features
Create your own unique homepage using the exclusive Valenti homepage drag and drop builder (no shortcodes or codes required!)
4 different modern grid modules (4, 5 and 6 articles + a variation of the 5 grid) to display featured articles or latest articles.
Full width slider to display featured articles or latest articles.
Slider to display featured articles or latest articles above the articles loop.
Offset option so that the post lists do not have duplicate posts on the same page.
Custom images or background colors
General custom colors (borders, menu hover colors, review areas, etc.)
4 blog styles for home pages to display the latest articles:

Layout 1
Layout 2
Layout 3
Layout 4
Layout 5
Layout 6
Layout 7
Layout 8

Endless scrolling options: All blog styles can use "Normal Pagination / Infinite Scroll / Infinite Scroll with Load More Button"
Consider the theme options:
Three different rating styles: stars, percentage or points
Possibility to include a score subtitle to display in thumbnails throughout the site
Ability to include up to three pros and cons with custom titles
Option to enable / disable user reviews (user reviews). When a user leaves a note, a cookie is placed on the visitor's computer with the corresponding post ID, in order to minimize the chances that visitors will vote multiple times on the same post.
Features of the publication
Full width post option
Post Format: Video (capable of embedding YouTube / Vimeo / Kickstarter / Viddler videos) and appearing in a single featured image overlay
Fully integrated assessment / assessment system
Post format: audio (capable of integrating Soundcloud) and appearing in a single overlay of the featured image
Upload a custom background or background slideshow
Change the featured picture style (four different styles) or turn it off completely
Set the background to any color
Set the background image to full-width stretch, repeat, or non-repeat
Several shortcodes available for articles: Dropcaps, buttons, highlight text, toggle (Faq), alert boxes, columns, video …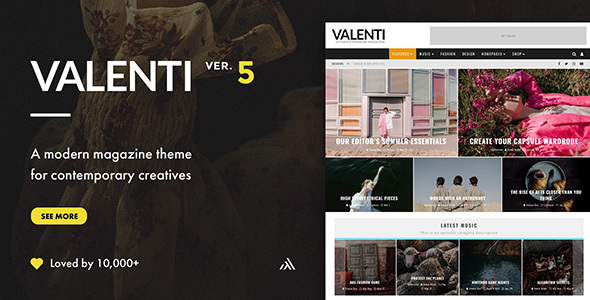 LIVE PREVIEW
DOWNLOAD NOW