Download Woffice - Intranet/Extranet WordPress Theme by Alkaweb. This item is under the category: wordpress/buddypress and had a total of 13356 sales.
Description
Why Woffice? Constant stream of new features and improvements to build the best solution, for you: Latest update: May 12, 2020 – See the changelog online, we listen and we act.
Compatible with WordPress 5.0+ and BuddyPress 5.0+
Woffice is a feature-rich, powerful Multipurpose intranet and community WordPress theme.
5 reasons to get Woffice in 2020
Already approved by over 11,000 organizations
Updated 140+ times
Fully flexible and compatible with the latest WordPress brands
Translated into more than 15 languages
Design of fast web applications using the latest technologies
Everything is wrapped in an easy-to-customize design inspired by Google's Material Design, giving it a beautifully modern feel and an easy to navigate user interface. Woffice is fully adaptable to a wide range of applications, including Corporate and government intranets / extranets, school networks or any community networks and associations / charities.
If you need a sure way to quickly and easily start your next awesome project, Woffice is what you need. Using the best CMS and its advantages to make you build something different.Easily.
Built with the highest coding standards, and fully responsive, It comes with: a full Buddypress network, custom login page, project management, wiki, chat & messaging, file manager, calendar, directory extension, forum, ecommerce and much more!
Build your own social or community network, intranet / extranet, project site with member IDs, school intranet, forum or even a wiki! Everything is included in the single package! Everything you need to build everything you can dream of right out of the box.
Whether you want to build an intranet, extranet, community, or any other web application. We believe it should be accessible to anyone with or without WordPress experience. Giving the right details to the right client to deliver a unique experience to your members with truly awesome features. This is our job on Woffice.
Characteristics
(NEW) LearnPress (free plugin)

Create a course
Manage the course
Sell ​​course
Live demo

Buddypress Network

Membership directory (+ profile picture, role, filter, unlimited custom fields with icons, you can hide certain types of members).
Complete profile page (+ file manager per user, personalized calendar, etc.)
Activity feeds and groups
Custom user roles (built-in editor)
Friendship & Messaging (+ online chat)
User card, cover image (ajax powered with special integration!) …

Customization

Full theme options (we are adding your options, there are over 60 options from your feedback)
Integrated extensions (Backup, Maintenance, Breadcrumb, Cover Image, SEO, Wiki, Projects, Birthdays, Funfacts, Survey, Directory, User Map …)
Menu with icons (+ 600 available: Font Awesome)
Unlimited colors and fonts (+ Google fonts included)
Adaptable workspace (with settings for each user)
Logo, favicons management

Each device …

Fully responsive
Compatible with web applications
HD Ready (retina)
Compatible with modern browsers
Bookmark icons

Project management

Front-end edition
Time progress bar
List of Wonders, Ajax Todos
Assignment of tasks (e-mail notification)
Drag and drop tasks from the frontend
File manager (multiverso and missing file)
Comments, links to tools …
Synchronization of Buddypress activity
Synchronization of Buddypress groups

Made easy

Demo content included
Online Documentation
Online support 7/7
Regular updates
Online update
Video tutorial
Online change log

Wiki-Knowledge

Frontend Editing / Creation
Categories (+ Sub-categories)
searchable
Comments and revisions
I like the button

Calendar and schedule

Includes EventON $ 80 saved
Includes WP Pro Calendar $ 32 saved
Over 200 features and options

…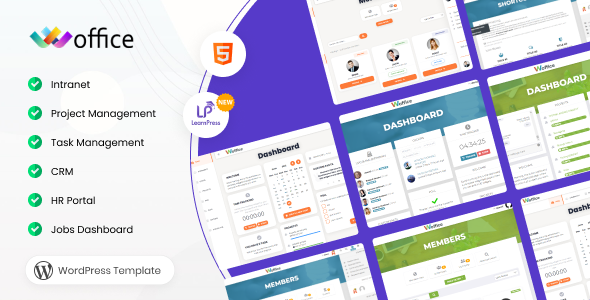 LIVE PREVIEW
DOWNLOAD NOW