Download RT-Theme 18 Responsive WordPress Theme by stmcan. This item is under the category: wordpress/corporate/business and had a total of 7664 sales.
Description
Last update: August 21, 2021 – v3.1 – changelog
RT-Theme 18 is a responsive premium WordPress theme with powerful CMS tools. You can use it for corporate, corporate, product catalog, service, or portfolio websites. The product and portfolio tools also give you a lot of possibilities for use in various services such as tour routes, car rental, real estate, hotel presentations and much more.
RT-Framework offers a solid thematic backend with tons of useful tools and options.
Customer reviews on RT-Theme 18
"WOW Awesome Theme, Super flexible… I have worked with over 75 themes, I can say this is the best I have seen. Powerful"
– JavierDesigns

"Hi Tolga, I believe this is your best theme ever !!!. You've added an incredible amount of features, shortcodes, and capabilities. Everything has become adjustable. And I see a huge amount of added features that your customers have requested in the past. Excellent tutorials and documentations and the theme is fabulous. Good luck with the sales on rt18. "
– Backups
"All in one, great job! "
– misld

"This is my 5th theme that I bought from this developer and each one is more impressive than the last! "
– sponge

"All 5 stars!"
– cmsadmin

"Amazing design and one of the easiest, most flexible themes I have used to date. Well done! "
– natgarrett

"This developer not only offers the best built themes, but the best customer support! "
– NowAge

"I just came to say thank you for such a great theme!" This theme is FULLY customizable and the support is some of the best I have had on TF. Recommend it to anyone. Keep up the good work! "
– CRobson

"Lots of reasons to rate this theme 5 stars 1. Excellent design quality 2. Good code quality 3. Amazing flexibility and customization 4. Good documentation and best of all 5. Quick and helpful customer support !!!"
– gsvnpraveen

"Very beautiful theme I love it so much !! Great features and great design, simple and clean, with really powerful cms tools. Very good work. And with that a great tutorial and documentation! Just perfect, nothing to say !! "
– mak_titi

"The best model I have bought. Congratulations to the creator, it's a very professional job. I am happy with this purchase "
– formatov

"It really is a first class product! I am amazed at the flexibility and freedom there is to customize this theme. This author / developer is definitely one to watch for even more professionally designed products. Thanks for making my life so much easier! "
– innovate1

"Hi! I couldn't find where to give your theme more than 5 stars .. sorry, I only rated it 5 stars! Congratulations."
– Nicolas Stauffer, Studio Ginkgo

"The best theme I have bought without a doubt. It's a perfect theme. RT-Theme 17 is very very good but it's better. You have all the options without programming any lines. The template generator is very nice. Congratulations on this perfect job. "
– jolona

"I bought many themes from TF and this is my third purchase from Tolga. Very well designed themes, which can be customized just as easily. Each new theme is better than the previous one. What I like most is that Tolga listens to the needs of each customer and makes it a feature if he finds it worthy enough. "
– anvith3

"Great theme, if the best of the best themes I've ever used. Congratulations."
– Roderswiss

"It's a great theme to work with. I love. Thank you for developing it. "
– the alderinos

"One of the best themes I've worked with so far. thank you so much "
– mssolutions

"Great themes and great customer support. keep up the good work and patience with your customers. haha! "
– rockstarmedia SA

"The best model I have used so far. With the ability to customize it to meet my needs, the dedication of the author (stmcan) is also fantastic, they keep you updated with email updates. Simply the best WP template from ThemeForest. "
– rssgmatt

"This theme is awesome! It's mega customizable and full of options. Easy to put in place. Good work! "
– rimlightstudio

"Flexible and easy to configure, great support. A + "
– jcvivien

"Superb support and a very structured architecture which allows the greatest flexibility that I have seen so far …"
– mySEOstar

"The best theme and the customer support is great! "
– shelf

"This model is so beautiful and flexible. I've seen a few websites built with the same theme and they don't look alike at all. Customer support is very friendly, fast and efficient. Anyone who decides to purchase this theme can rest assured that they will be in good hands and helped when needed. Awesome product and great price too! "
– Sand bones

"I have downloaded over 100 items here and have the most popular themes, but this one is definitely different. At first I wasn't sure, but after playing around with it a bit I decided that this was the way WP themes should be …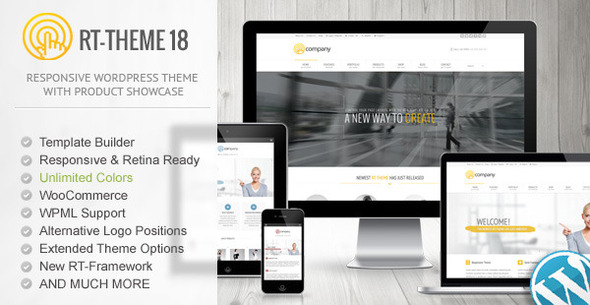 LIVE PREVIEW
DOWNLOAD NOW