Download Specular - Business WordPress Multi-Purpose by code-less. This item is under the category: wordpress/corporate/business and had a total of 7611 sales.
Description
Ultimate Multipurpose Theme – Demos & Inner Pages
Not only variations or home demos, but sites entirely created for you, ready to be published on the net. Over 20+ ready-to-use sites created with research and dedication. Choose the right one and connect in 5 minutes. Specular is a spectacular WordPress theme, the last theme you will ever need to buy. Check back to this page regularly for the latest updates. New features and demo sites added every week.
Dedicated support center
With a 12-member team, Codeless will provide the most powerful, real-time support you have ever tried. Our staff are focused on helping our clients solve and customize their sites. Five of them work every day to make sure Specular stays clean, bug-free, and up-to-date. The last and most important: it's FREE for life
Endless possibilities
The Codeless team has worked hard to ensure you have the endless possibilities this Bundle Theme can offer you: Purchase over 20 themes for the price of one (more in advance). If you can't find the right demo site for your need, vote now for our survey of what you need more from Specular and our dedicated team will provide those features or demos in the next update. Last but not least: with Specular you can create your custom site very easily and in the fastest way you have ever tried. Endless options and possibilities.
Business / Marketing Make Money / Miscellaneous
These are our three main logical separations on Specular. What it means? It means without code. No more coding skills to start your business, increase your online sales, build your portfolio, church, medicine, creative, photography, travel, restaurant (and more) presentation sites. With over ten years of experience in website building and marketing campaigns, we are able to provide our clients with the ability to create the best selling product in the market.
Layout flexibility like no other theme
Specular provides unlimited layout customizations. With easy to use theme options, you can create a unique and perfect page for any purpose. These options contain:

Layout of all pages (box or wide)
Header Layout (Top, Left, Right, Fixed, Static)
Interior layout (left sidebar, right sidebar, full width)
Additional side navigation (left, right)
Container width, boxed container width – in px or percentage
Footer Layout (Show / Hide Footer and Copyright)
For example: if you need a page for product marketing or sales, you can easily create a custom header layout, remove the footer, remove the sidebars, and center the container from the main page in 500px or 600px. Our demo sites are created with these easy customizations. Take a look at our DEMO SITES.
Online model generator with export
All of our designs are created with online personalization in mind. You can create your custom template with the ability to change many options to meet your needs before spending money on it. With the online customizer, you can create over 200 unique layouts and styles like no other theme ever. After creating your personal template, export it with one click and go live in 5 minutes.
Be a member. Get exciting extras.
Dedicated 24/7 support with over 12 staff members.
Lifetime weekly free updates (new features and demos added weekly)
Get new free demos created from the community.
HD video tutorials
Get free suggestions from our expertise to create your perfect

website

Suggest the other demo you need and we will create it for you.
1-click installation and innovative backup
Such simple and powerful demos install with Specular. Select a model and install it completely in seconds. Codeless's new innovative import / export option is awesome. Now you can save your content, install a new dummy, and resend the save in the easiest way. Don't waste time with other plugins. The last one, you can share the content you created with the community in this way, we can create the biggest demo and demo community to help our users.
BASIC FEATURES
FULLY RESPONSIVE
Try to resize your navigation and look at the perfection of any part of the page. No matter if you are on tablet, mobile or desktop, it looks awesome everywhere
30+ PORTFOLIO PROVISIONS
Presenting your projects is easy with Speculaire. Use masonry, grid, full width or boxed layout and all with 3 styles and 2 to 5 columns
ATTRACTIVE INNOVATIVE BLOG
Speculaire comes with a new style of blogging. The full screen blog style is easy to set up and allows the customer to read new posts.
TRUE MULTI-PURPOSE
Unlimited possibilities to build great websites. Unique and useful demos for your next project. Get the best of a theme for $ 55.
CURSOR WITHOUT PERSONALIZED CODE
Custom slider from our team, with the ability to create a slider with parallax effects animation and theme style buttons.
CREATED WITH RESEARCH
All new web design features and SEO practices are used to make this theme …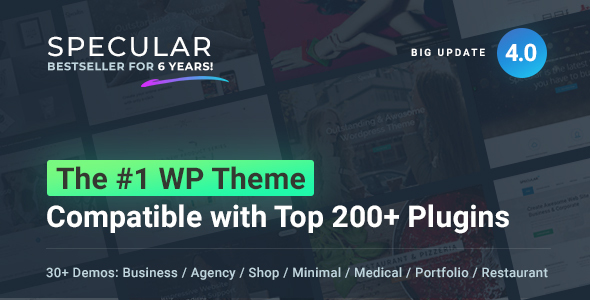 LIVE PREVIEW
DOWNLOAD NOW